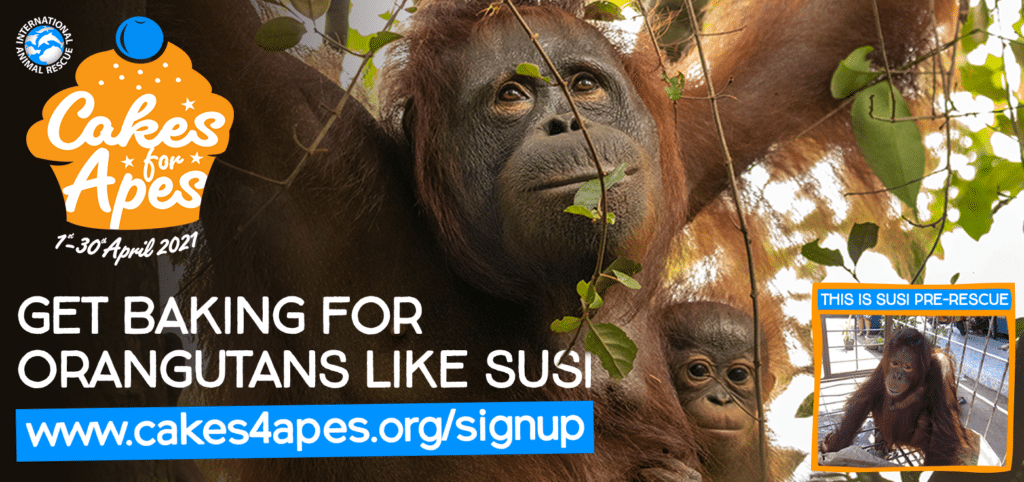 Perkier Partners with International Animal Rescue
Since 2018, we have proudly supported the awe-inspiring charity International Animal Rescue to support the rescue and rehabilitation of Orangutans in Borneo
Did you know… that Orangutan's are critically endangered, and forecast to be extinct in 25 years? This is due to loss of habitat, primarily for palm oil plantations. Which is why we are proudly palm oil free.
International Animal Rescue (IAR) was established by Alan Knight OBE in 1989 with a mission to end animal suffering and rebalance the interaction between humans and animals in the wild
Cakes for Apes is a fantastic initiative helping us raise awareness and money to help protect Orangutans by baking some cakes. Throughout the month of April, IAR runs the Cakes for Apes campaign, encouraging us all to get baking in our local communities and run cake sales, with all the profits going to help rescue and rehabilitate Orangutans in Borneo.
If this tickles your taste buds, IAR offer a fundraising pack that can be bought here packed full of perky tips, inspo and ideas.
Perkier and the Perky Fam…
The Perky Fam have been busy baking, to help raise awareness and money. We are donating £10 for every post. Check out some of their pics below… unless you're hungry and then we advise eating a Perkier bar and then taking a look!
Get your Ape ron on and get Baking!
If you are interested in getting involved click here for more info!
If you're not a baker that's totally ok too, you can donate straight to the charity without having to crack a single egg (or whipping up a vegan egg alternative from flax seeds).